Our Take On What "Custom Millwork" Really Means
Everything we do is custom. But what does "custom" really mean? The obvious answer is that the item or product is sized to fit into a unique space which may mean altering it's overall sizing from standard sized similar items available from production style cabinetry or furniture houses. It would also mean an item has been created or designed to meet a unique visual or functional criteria. It could be a variation of an existing item or a completely new item never before seen or built.
Many clients come to us with an idea of what they want it to look like based on what they've seen online or elsewhere. We take that idea and flesh it out so questions like "how it's going to fit in to it's surroundings from a functional point of view?" and "what features can we incorporate to maximize it's overall usefulness?" are addressed and designed into the piece. Whether it's developed by or for one of the designers we work with or directly from the need of one of our clients, we take the task of coming up with a creative solution very seriously. In each and every case we make sure the form, function and integration of what we design works as it should.
That's really what our job is…to interpret the best long term use and convenience of anything we are asked to design and build. As a result of this outlook we often get comments back like "I never would have thought of that but I'm sure glad you did".
That's the true meaning of custom…
Kitchens And General Cabinetry Construction
Kitchens, vanities, bedroom dressers or side tables all are based on variations of cabinetry and often are based on similar construction principles even when they are used as stand-alone pieces and furniture. Cabinetry styles vary from more modern Eurostyle or frameless to more furniture styled face-frame design. Decorative additions can adorn all styles such as corbels, real or faux feet, crowns and mouldings, inlays, pilasters…all of which add detail and cost to your custom cabinetry designs.
Functional components may not be as visually evident but are very important once you begin using your cabinetry so you can have years of worry free usage…
drawer construction styles

drawer slides

door hinges

pull-out shelves

corner usage hardware
For drawers we can use whatever construction style a client wants but always recommend solid maple dovetail construction for longevity and look. It's what we use almost exclusively for years now. The proof that this has been a best practice is that we've never had a complaint.
We only use BLUM door hinges and under-mount drawer slides.
We have had great success and a lot of happy clients with the LeMans corner systems because of their rugged, simple yet adjustable design. For a short video about how it can enhance your kitchen click on the image below.
We always recommend spending a bit more and making the middle shelf on all base units a pull-out as well as making most if not all shelves in a pantry cabinet pull-out style. The long-term enjoyment and ease of use versus more than compensates the up front initial cost increase and is always commented on afterwards with statements like "I'm so glad glad you convinced us to do it!"
We Will Help You Design Your Special Space
It takes a lot of planning and discussion to create a finished space or product that you love for years to come. Getting it right isn't so hard if during the process the right questions are asked, the right materials are chosen and thoughtful consideration is given to what kind of life cycle you are hoping to achieve with it's present iteration as well as how it could be upgraded down the road when your tastes or usage requirements change.
There has never been so many beautiful choices of materials and styles available before now and the list keeps on growing almost daily. Some trends are
fun or transient while others are lifestyle driven and become constants. Some folks love sleek and modern stainless steel and glass with punctuations of bold colors. Others are more at home with trending colors and live edge wood with eclectic elements mixed in for class and character. 
Built-in library style shelving and cabinetry for a fireplace surround brings a warmth and function to previously lacking room. Now a more natural gathering place with multi-functional usage based on how the family uses the space best. Before it was a room…now it's personal and inviting.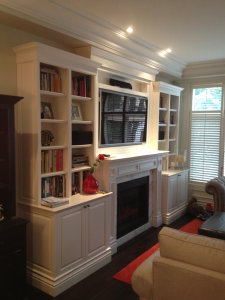 Custom Wine Storage
When you're ready for a personal wine cellar we can help you design and build anything from a wine closet with or without climate control to a feature room with functional and beautiful racking of various design to suit your budget, taste and interior design.
For those who have limited space we also design and build custom stand-alone wine fridges as well as being re-sellers for commercially manufactured wine fridges. These can come in almost any size and shape and have a furniture style feel to them so they can be situated in a dining room, a living room, den, hallway or kitchen. Finishing is available to suit and completely custom. Perfect for your condo or cottage because of the smaller footprint and the flexible location advantages why not consider one as an alternative to a full sized cellar or even a wine closet?
Whatever Millwork, Cabinetry, Furniture or Wine Cellar ideas you may have we can help it become a reality for you. Lets get started on your custom project soon. Call today for a relaxed conversation about what we can do for you…
All the best,
Admin
The Modern Rustic Fireplace Design – Using Reclaimed Barn Fireplace Mantles  A seasoned farmer once told me that when the roof is compromised and starts leaking or sheeting blows off the rest of the structure will follow in time. Bad news for the barn… good news for those of us who want a piece of history in our living room, dining room or den, right?     So lets take a few minutes to deal with the 3 most common questions we get about rustic barn beam mantles… What is involved in finishing them? How do you mount it...
read more